CARD CRAFT: A Watercolor Resist Holiday Card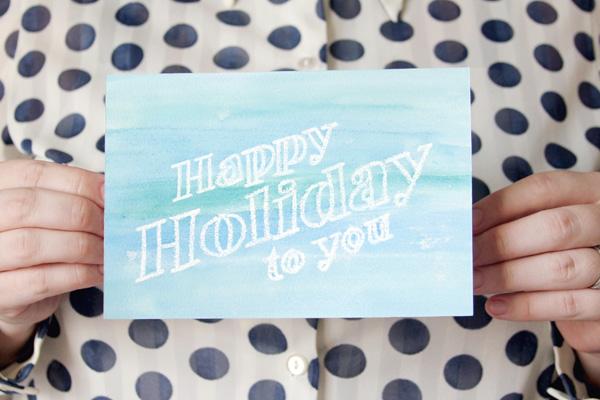 When I was a little girl, I thought it was the most magical thing. You can draw with an invisible (white!) crayon, and when you paint over it, your secret message appears! What fun for a little kiddo, and still fun for adults. Here's a holiday greeting card that utilizes that same watercolor resist technique. It might not be as mysterious, but it's now a great on-trend card to give to friends this season!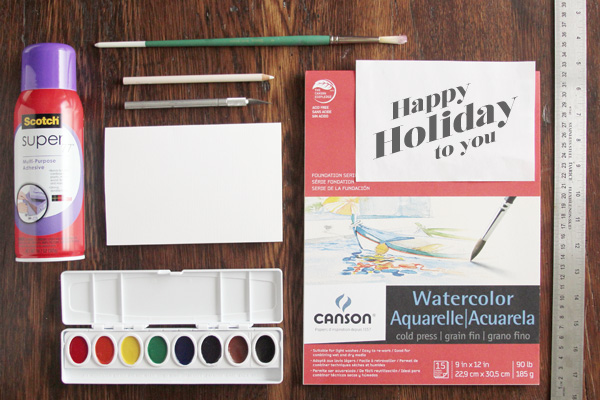 watercolors
paint brush
watercolor paper
blank white card (I used 4.25″ x 5.5″)
sentiment template (download mine here)
waxy white pencil, or white crayon
spray mount
steel ruler
Xacto blade
optional- tape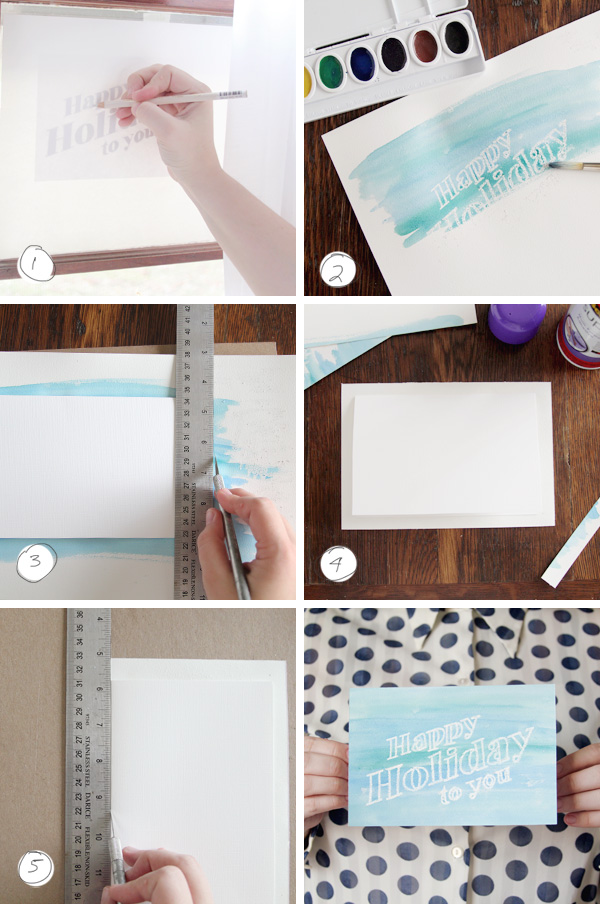 1 – Hold the printed sentiment (download mine here) onto a window or tracing table and lay the watercolor paper overtop. It's nice to use tape here so that neither paper moves while you work. Now using your white crayon or waxy pencil, trace the outlines of the letters you've printed.
2 – Mix together two colors (pink and red or blue and green work great for a holiday card) of watercolor paint together, and paint over the sentiment. You will see your message begin to appear. I varied the color mixture as I went across the words. I didn't need to blot my message after painting, since the paint really resisted that whole area. But you might want to blot yours to remove extra paint that sits on the words- just make sure the paper is just about dry before you do it.
3 – Lay your white card overtop the dried watercolor paper you just worked on, trying to center it with your sentiment. Now trim around it, leaving about a half inch around the edges.
4 – Now spray the back of your watercolor paper with spray mount and lay the card over top of it, being careful to keep the card center and the right sides up. Smooth out the two joined pieces with your thumb.
5 – Lastly, trim around the card so the watercolor paper's edge is the same as the card's edge. Since you are laying the ruler on a sticky surface (the sprayed watercolor paper), you should back the ruler with scraps from the time you trimmed before.
That's all, folks! It's a super simple crafts adults and kids alike can enjoy. You can also use this same technique to make your own framable art for your walls. You can stick with the typography theme here, or create a fun pattern with your white crayon. So many possibilities!