Pantry Purging Meal: CURRIED CHICKPEAS & RICE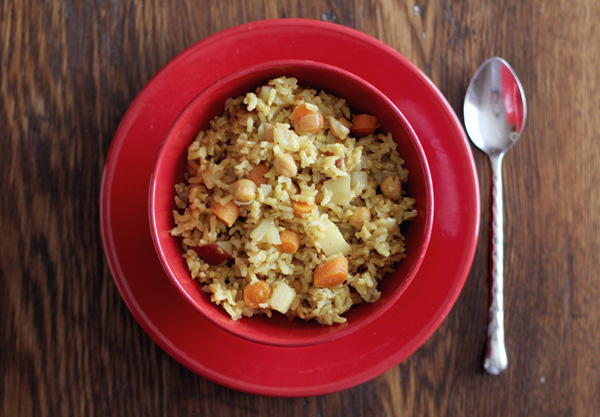 Before heading to the grocery store, I like to scour my pantry and refrigerator for anything I can use to throw together one last meal. Curried chickpeas and rice is a favorite pantry-purging meal of mine. You can use any root vegetable of your choice, and season it how you like- it's an easy, versatile, one-pot meal.
I N G R E D I E N T S *
1 can of chickpeas

1 carrot, sliced

1 potato, diced

1 medium onion, diced

Seasoning to taste (I used curry, salt, cayenne pepper, and black pepper)

2 cups of rice, uncooked

2 cups of vegetable stock

2 cups of water
*I also like to use white wine for some of the liquids and add garlic when I have it on hand.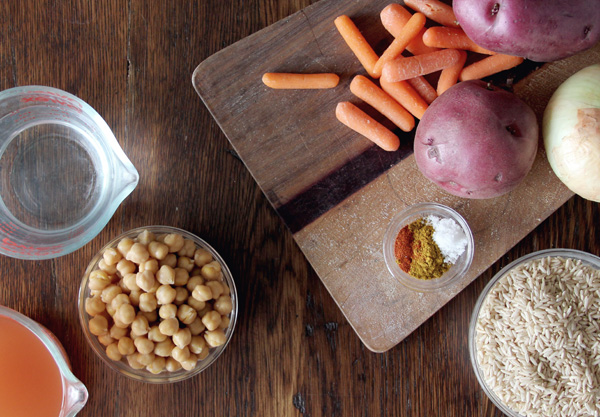 M E T H O D
Heat up some olive oil in a deep pan (that has a lid), and saute the diced potatoes and chopped onions (and garlic at the end, if you're using it). After the onions carmelize a bit, dump in the rest of your ingredients, stir to combine, and put a lid on it. Let the pot simmer on low for about 45 minutes, or until the rice has absorbed all of the liquid.