Our Dining Room (so far) and a Paint Horror Story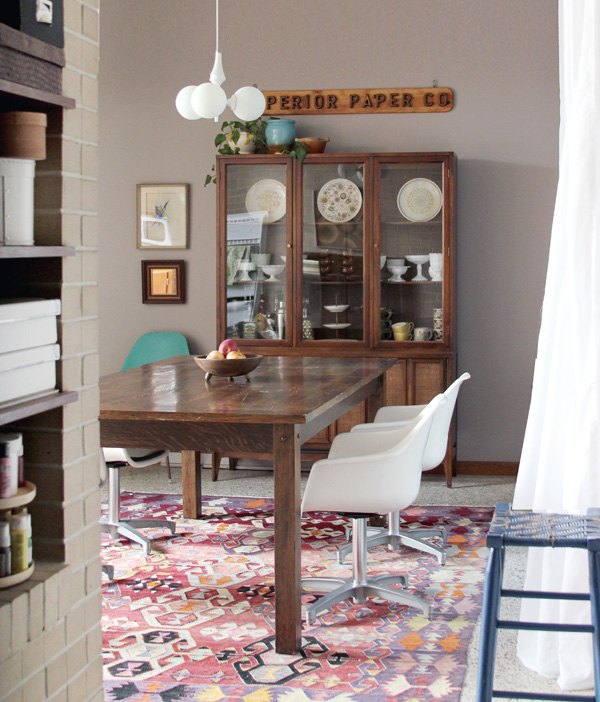 Remember my recent thrift store score? Well, I thought I'd share them in action! I'm now on the hunt for new eiffel bases for them, but in the meantime, I'm pretty happy with how our dining room is coming together! Now the paint color…? That's another story.
When we moved in to our house last January, Phil and friends worked to move everything from our third floor apartment, while my dad and I went out to buy insulation and wall paint. (Yep, that's right- our Northeast Ohio home wasn't even insulated when we moved in- in the middle of Winter!) I was exhausted, and wanting to get back to unpacking dishes and such, so I quickly picked out a paint color, "elephant gray," and in my impatience, didn't even bring home the swatch to ruminate on the color for a while. Since I was pregnant at the time, I didn't participate in the painting process, but hid away at my parents, eagerly waiting for the fumes to die down so I could take a gander at the new look for our dining room, laundry room, and living room.
Well, when I saw the color… I didn't love it. Though I didn't hate it, either, so I figured maybe it was just a shocking change from my usual white, and I might grow to love it. But after a few months with the color, I had become used to the color, but still didn't like it. It's how I imagine wearing someone else's favorite jeans might feel. Sure, they might look nice on the hanger, but they just don't fit right on me. So, I'm looking forward to repainting! I just need to settle on a color. This time I'll bring home the paint swatch and stare at it for a while. Hey, maybe I'll even get a sample paint can, before asking someone to cover our walls with three gallons of paint when I'm not even there to see it….. Well, you live, you learn, eh?