HOUSE PLANNING | The Nursery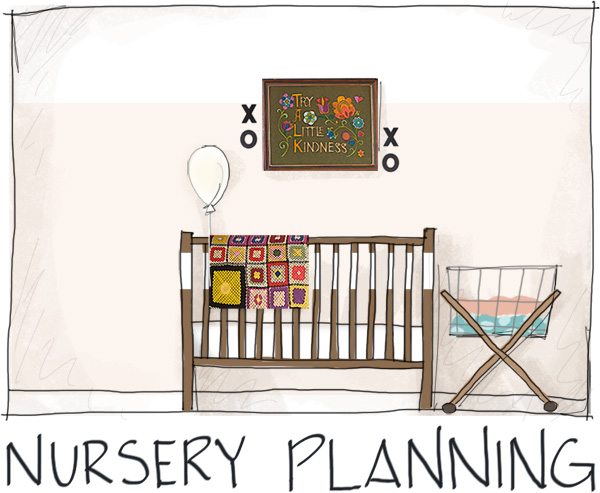 As I type this, Phil is in the nursery painting a light shade of "Pink Champagne" (Valspar from Lowes) onto the nursery walls. In another week, we'll be filling the room with everything I've planned. I guess that means I had better begin to finalize my nursery plans!
I had been stuck on what to do with the wall above the crib for quite a while. I knew I didn't want a mobile, and I knew I wanted to reuse art from our apartment that hasn't yet found a place in our new home (can you say free?!).  But how should I arrange it all? I didn't want anything too sparse, or too cluttered. So when I found this cute little balloon light- I knew I wanted to include it in a simple little arrangement to give a minimal touch to the kitschy art. Voila! I hope it looks alright once it makes the transition from digital rendering to real-life.
The crib we are using was found on Craigslist for a great price. I decided I wanted to paint a thick white stripe across the top, below the chew guards. So I found some baby-safe paint, and now I just need to get to work on painting! I'll share more on that project later.
Like my selections and want to recreate a similar look in your home? Check out the links below!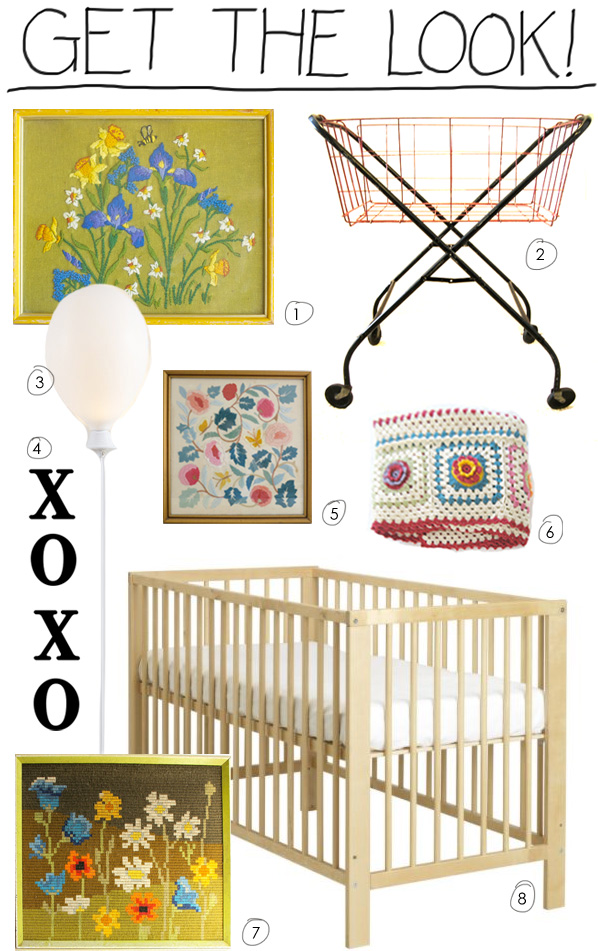 1 / 2 / 3 ($50 with invite link here) / 4 (create your own signage) / 5 / 6 / 7 / 8 / baby-safe paint here
If you want to check out the opposite wall elevation, look here. Since I shared this rendering originally, I've decided on different curtains, and moved the "xoxo" signage to the opposite wall. Other than that- this wall is all ready to go! Woo hoo! This nursery is coming together!