Julie Kirk: Eclectic Paper Crafter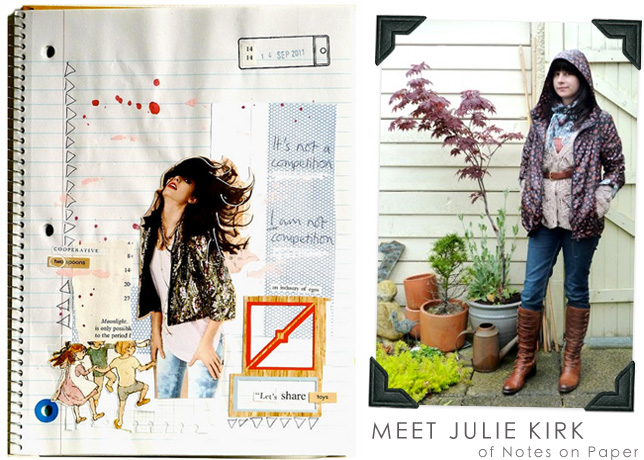 Through the years I've felt myself making a shift from scrapbooking to art journaling. The change mostly had to do with my desire to chronicle my thoughts and feeling through words, more so than picture. But a really big part of it was an urge to use found paper elements- scraps of paper from random sources, words clipped from magazines, and sketchy-painterly elements that came straight from my brain- not from a scrapbook manufacturer's mass produced patterned paper. Not that manufactured=bad, but seeing no-rules work from the likes of Julie Kirk just confirms my thinking that there's something special about eclectic paper crafting from the heart.
If you like Julie's style, you'd probably love to get your hands on her vintage paper packs and stencil kits available at her Etsy shop. Just want to be inspired? Check out her interview below!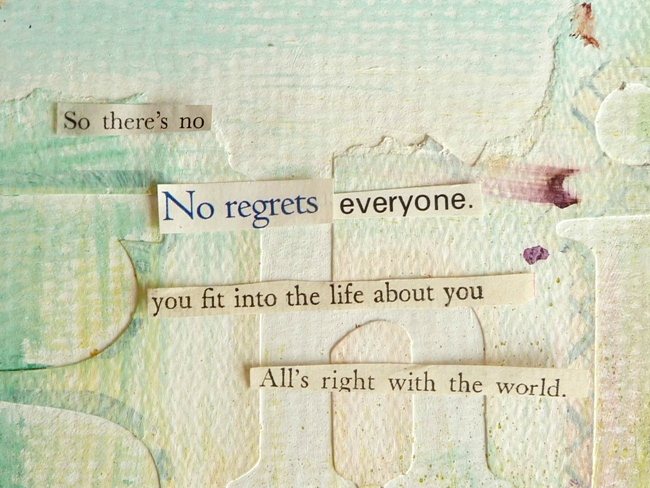 Q: In your own paper crafting adventures, are there any techniques or processes that you find yourself using over and over?
A: The majority of my recent work – from my art journaling, to my scrapbooking, collage and art journaling too involves words and images which I've collected from either vintage books and magazines or modern catalogues and junk mail.
I love the thrill of scouring all these pages, which may otherwise have been thrown away or left languishing on a dusty shelf somewhere and suddenly spotting a phrase or image which really speaks to me. Then I take my scissors to it!
I know there are people who treat art journaling as a way to express the feelings they're currently experiencing by writing out their emotions, in their own words, on to their pages. However, I like to start with words and phrases which I randomly findand then construct a narrative from them. I believe that, even though they're not my original words … the fact that they spoke to me, at a particular time, means they reflect something I'm feeling right then. There's a lovely serendipity in finding and combining phrases from many sources, to tell one story.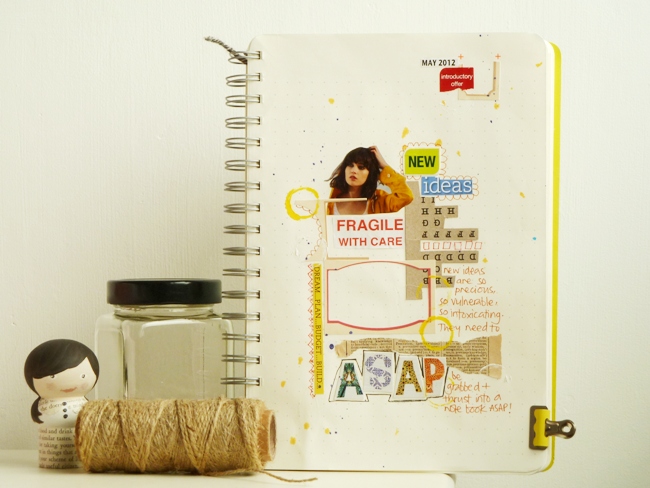 Q: I love that your kits have an eclectic mix of unexpected elements. Makes for fun art journals! What are some unusual elements you have used on pages in your own art journals?
A: If it's interesting enough, eye-catching enough and flat enough … I'll consider it for a journal page! Nothing is safe.
I'll often use elements from food packaging on my pages (as  Ishared in this post) because [a] it's a bi-product of everyday life and therefore it's almost free! and [b] having been designed to catch our eye on the supermarket shelves  they often feature great images, prints and colours. Plus there's some great fonts to be found in packaging too … and who doesn't love a good font?!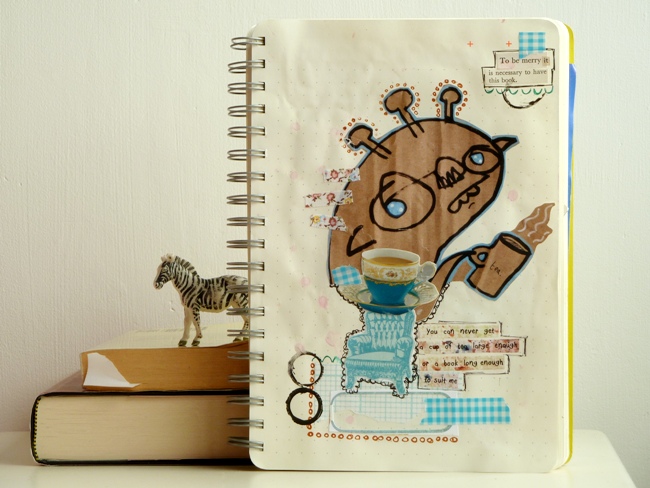 My other big favourite is vintage illustrated children's books … the tortoise-lady here is a hybrid of an encyclopedia illustration and some old gift wrap and then the remainder of the page features an aperture leftover from using a die-cutting machine, a laundry label and wording from a catalogue. I like to think that keeping a magpie-like eye open for these interesting elements is quite a creative act in itself long before it ever ends up on a page. So I save … and savor images and text from many many sources to use on my projects.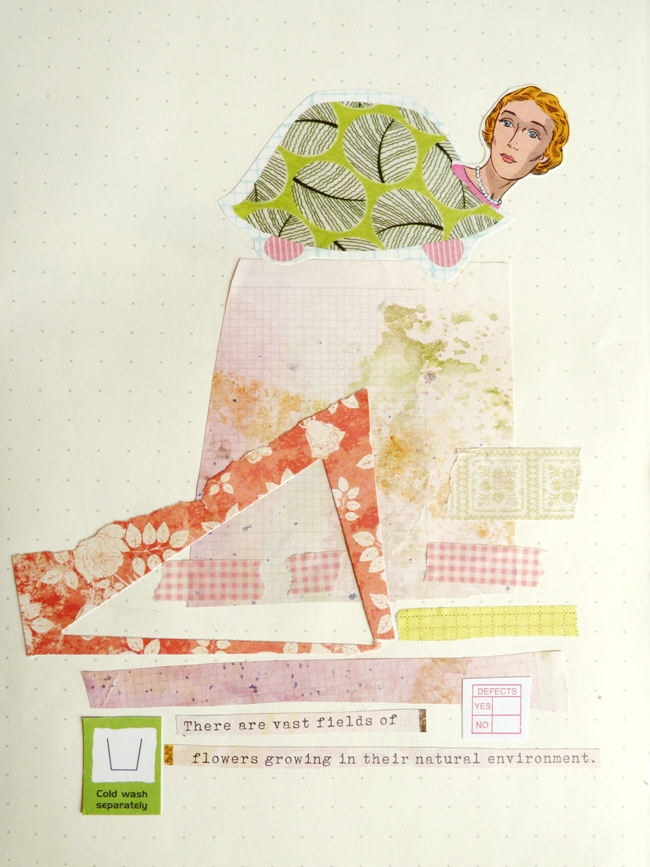 Q: Do you have any advice to someone who is interested in art journaling, but has never made one before and doesn't know where to begin?
A: I sometimes wonder if it's the term 'art journaling' itself which intimidates people before they even begin.
I know that when I first began, I went to an art journaling class and, until I started messing around with the paint and paper, I'd felt like a complete fraud. As if I was supposed to know all about it before I got started. But it wasn't the teacher who made me feel like that, it was what I was telling myself: 'How can you masquerade as an 'art-journaler' when you don't really know what that is?"!
And really, what I've come to realise is that, despite its grand title, art journaling, at its most basic is that thing we all did as children curled up on the floor with a pair of scissors, an old magazine and a big sugar paper 'scrapbook'. It's 'cutting and sticking'. It's collage. It's mixed media messiness. It's a way to turn down the noise of the world and tune into colours, words, imagery which you like. It's fun.
I really believe that all it takes to become a so-called art-journaler … is a change of attitude. You're probably one already. You just don't use that term. And really, it doesn't matter what you call it, as long as you enjoy the time spent being creative with scissors, paper and yourself.
To demystify the process of 'art journaling' even further I shared a few step-by-steps of pages in progress on my blog which seemed to help novices along the road to journaling with confidence … you're welcome to see if they work for you too.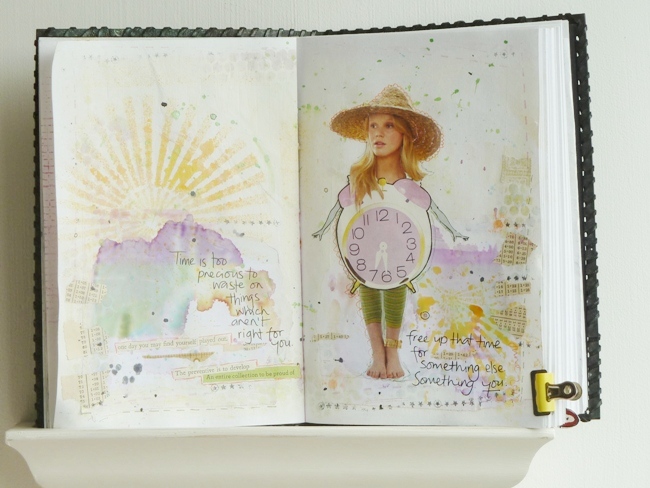 Q: Who are your favorite paper crafters you admire and are inspired by?
A: I've been admiring the style and enthusiasm of such wonderfully creative ladies such as Katie Licht, Dina Wakley, Michelle Clement and a certain 'candiMandi' … for a long time now, and am always excited to see a new, inspiring blog post of theirs appear in my reader.
And, more recently I've admired the work of Susanna Scott, Nichole Snyder and Caroline Rondel. With a vast world of inspiration and pre-curated creativity which Pinterest has opened up to me, I'm discovering and pinning new names all the time.