House Planning | The Nursery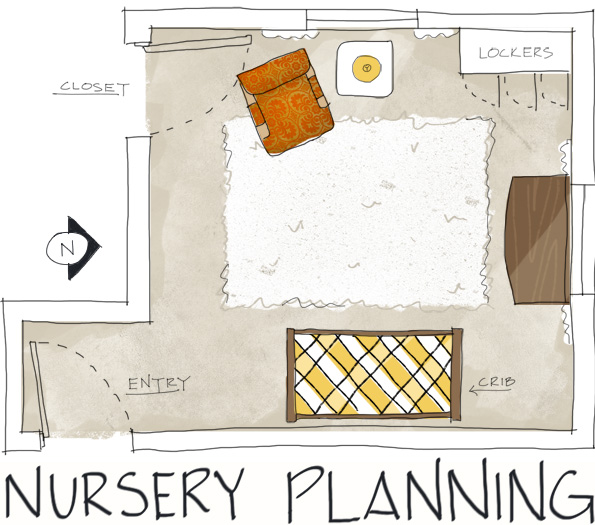 Probably the most frequent pregnancy-related question I'm asked these days is, "Have you started on the nursery yet?" And I'm pretty sure each person who asks it expects a resounding YES! in return. But guess what? I haven't even started on decorating the nursery yet! In real life, that is. The room is still covered in moving boxes, clothing racks, and yes, dust. But that doesn't mean I haven't designed and redesigned the nursery a dozen times in my mind. I want to make sure I've gotten it right, you see. We've been saving up to pay cash for everything that goes in this little room, and by our calculations, everything will be ready for installation in August. Hopefully I can still move by then. Baby girl is due on September 21st! Yikes!
Right now I've been paying the most attention to the west wall of the room (see elevation below). Things that are ready for the room include: the lockers (freshly painted white), the wall art (hand-me-down from our apartment-living days), the table (old typist stand painted white), and the lamp (formerly in our bedroom). DIY projects I've been putting off: making the curtains (easy peasy!), reupholstering the rocking chair with an orange vintage bedspread (cheap!), and stitching together a poof to go next to the chair (intimidating!).
Almost everything's all set to go, I just need to find some motivation to finish up all of the projects I've gotten myself into. But in the meantime, I've been thinking of cute storage solution for all of the blankets and stuffed toys which we'll most likely have coming out of our ears. Right now I'm on the hunt for the perfect basket or two to sit atop the set of small lockers. Which option do you like best?