WARDROBE | Maternity Style – 28 Weeks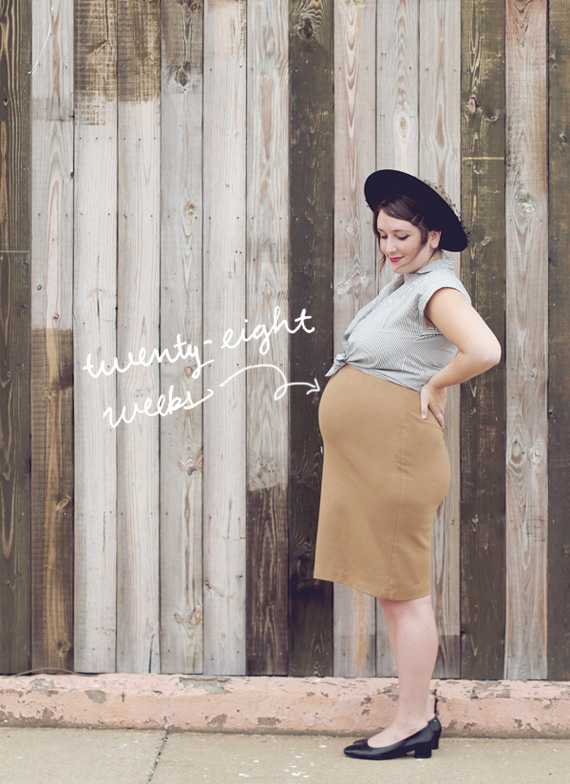 Today my doc and I were sharing a giggle about how rude people can be towards pregnant women- whether it be passive-agressive personalities, or sheer stupidity. Fortunately, most people in my life just tell me I'm looking great (they remember what I looked like when I was dreadfully sick, though…), while some others ask, with a cheerful smile, "Are you sure there aren't two in there?" Uhhh… so you're saying I look bigger than I should. Great. Thanks. And I'm pretty sure after five ultrasounds and twenty-eight weeks of pregnancy, they would know if there were two. So there's no need to ask such a silly thing.
But really, I've had it quite nice, with people being mostly polite and caring in their comments. And I haven't had anyone come up and try to touch my belly yet (besides close friends, but they get a free pass), so that's nice. I wouldn't want someone touching my belly when I'm not pregnant, and people, these things do not change when you stick a baby inside. Promise. Just restrain yourself. I'm preparing for the day when I'm in the frozen foods section and I notice a stranger's hand on my belly. Oh Lordy. That'll be the day.
O U T F I T   D E T A I L S :
blouse: thrifted | skirt: thrifted | hat: Avenue Antiques (Canton, Ohio)
sunglasses: Tejas Vintage on Etsy | shoes: thrifted (vintage Hush Puppies)
photos by Phil (the husband)