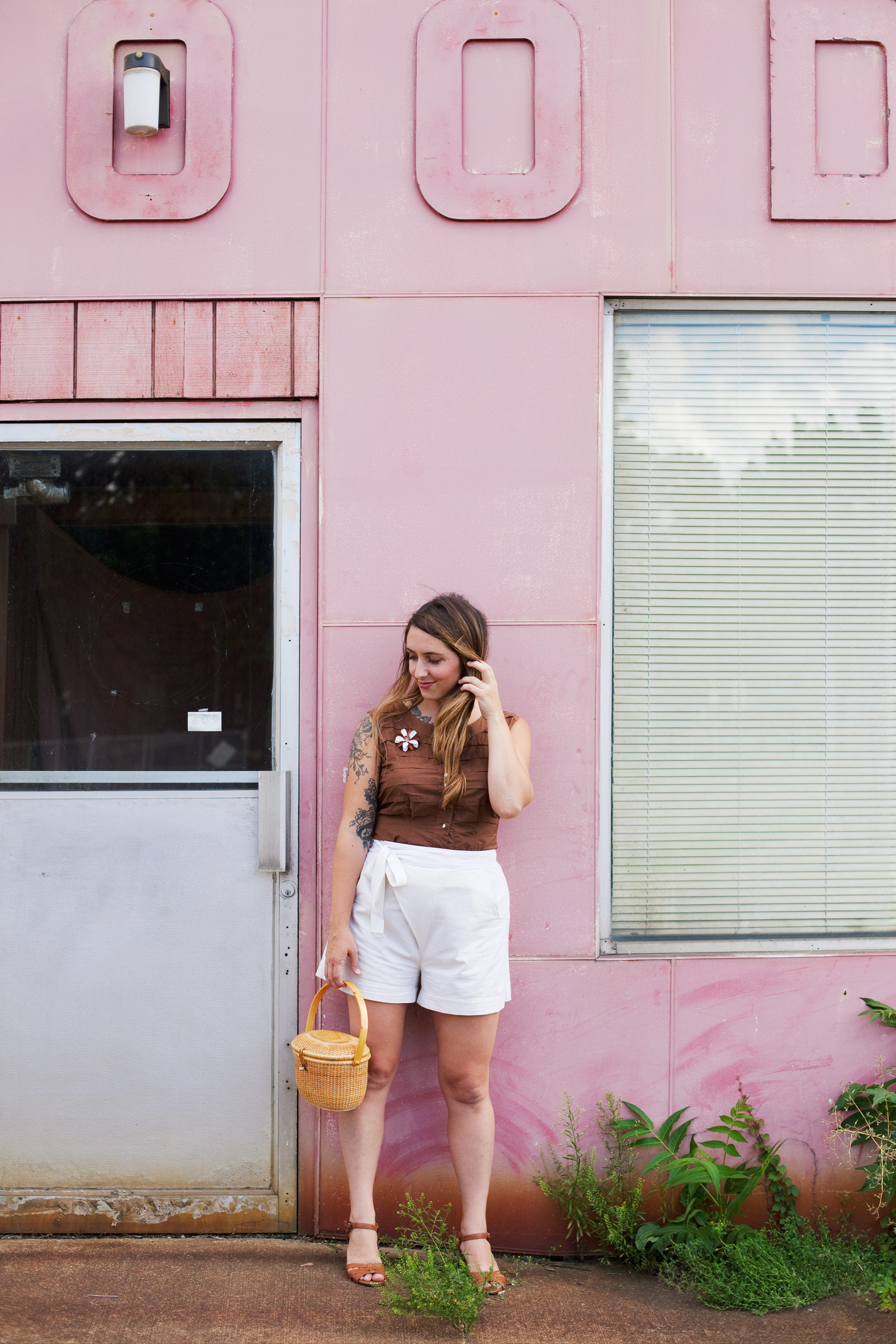 Remember the days before fashion bloggers hit the big time? When Instagram probably sounded like something more microwavable s'mores related than just another monetization opportunity? Ah, the days when all of us lowly bloggers shared our outfits on the Wardrobe remix Flickr group, found each other, formed friendships, and now have perhaps gone on to more sophisticated style blogs (not me!), have become artists, or maybe mom bloggers, DIYers, or else have abandoned blogging altogether… I just love that we have these archives online where we can see how our fashion and lifestyle has evolved through the years, from when anonymous scrapbookers would post about how I would one day regret my fashion choices, to now when I do look back and cringe, then chuckle, about the funny thrifted clothes I used to put together. It was so much fun!
I started blogging about my fashion choices back in college when I was poor, had a penchant for bohemian tent dresses and vintage boys tees (paired with structured blazers, of course), and spent a lot of time in the art studio, out dancing, or binge watching Lost in bed with Phil. Ah, those were the days! After college, I gravitated towards a costumey vintage aesthetic that was highly influenced by my love of cinema from the '30s to the '60s. I would sometimes even sit for an hour under a bonnet dryer while working at home on my computer until my hair was perfectly set.
Nowadays days my style is a bit less unusual, with more modern pieces than ever, and just a bit of vintage influence, rather than a wardrobe that looked like something straight out of the costume department of a local community theater. (I literally had attended a liquidation sale at the costume department at a local school and struck gold on so many great vintage pieces!) The '70s are hot right now, and I certainly dig that, but mostly I just like to keep cool in the summer, warm in the winter, feel cute and put together during all seasons, and simultaneously be able to play around with my kids, or else sequester my squirming infant and her toddler sister. If something seems put together enough to share on Instagram, cool! If it's the third day in a row that I've worn the same simple shift dress, well, then… that won't stop me from Snapchatting myself doing something inane while wearing the same sauce-stained white dress as the day before.
I guess I've just been feeling a little contemplative about blogging and how much motherhood affects my fashion choices, and yet how my decisions are also still influenced by what I share on social media or the overall aesthetic I'm so keen to maintain. Oh, how much I've changed through the years, but I'm still very much enjoying the fashion evolution process, and feeling grateful that I even have the privilege to care about such trivial things.
What about you? What influences your fashion decisions?
O U T F I T D E T A I L S :
blouse: Colette's Vintage in Canton, Ohio / shorts: ASOS / shoes: Clarks
brooch: vintage / purse: thrifted